Compilation Builder
Once you have built up a healthy level of product on your system, you may wish to use one of our key time-saving functions, the 'Compilation Builder'.
The Distribution Tool keeps a record of every musical recording you upload and detail so that each track is recognized independently beyond the product it first appeared on. As such, building a compilation product containing either exclusively previously-released material or a mix of old-and-new is exceptionally easy.
By selecting New Compilation from the Releases sub-menu, you will be taken to the Release Compiler menu. Here you will find a list of every recording currently uploaded with all of the important information listed alongside it (and a useful 'Preview' button to listen to a quick preview of the selected recording).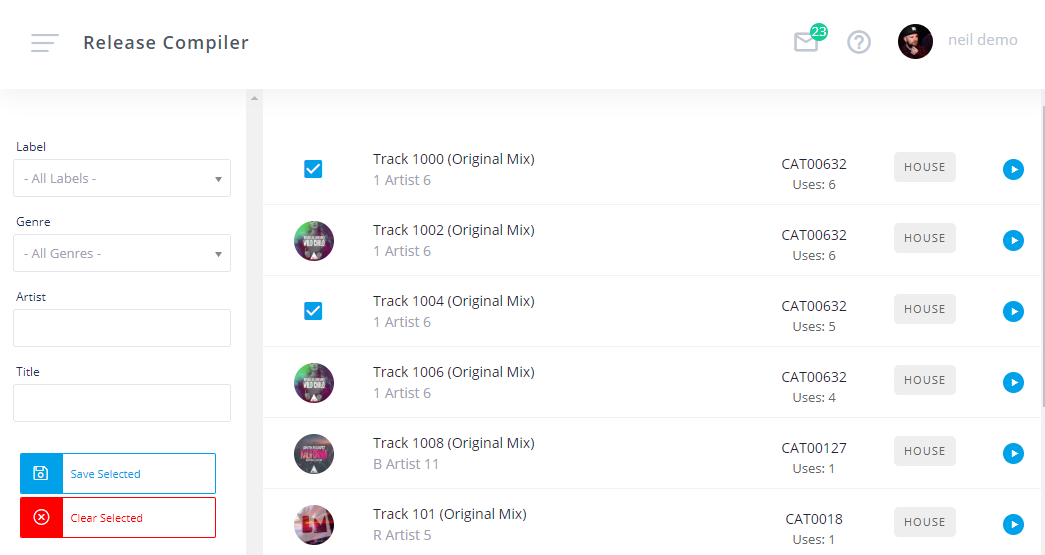 To select a track to be included in your compilation simply hover over it in the list and tick the checkbox that appears under the release artwork circle. You can refine the selection of recordings on show by utilising the filters in the left hand column, any tracks you have already selected will be remembered even if they do not appear in the filtered list.
TOP TIP
To save you time whilst building compilations, the Distribution Tool remembers the order that you placed a 'tick' beside a track. Therefore, when you do select 'Set Release' - the selected recordings will be listed in the running order that you selected them in.
You will notice that each track is given a 'Uses' counter - this will tell you how many times that recording has been featured on a product across the board, and the catalog number of the product that recording was last featured on.
When you are happy with your selection of tracks click the Save Selected button - a new column will open to enter some basic details about your new release, such as the title and catalog number
Once you have entered these click the Create Release button at the bottom to save the release, you will now be taken to the newly created release, where you can complete any additional details, upload cover art, and the deliver the release as normal.